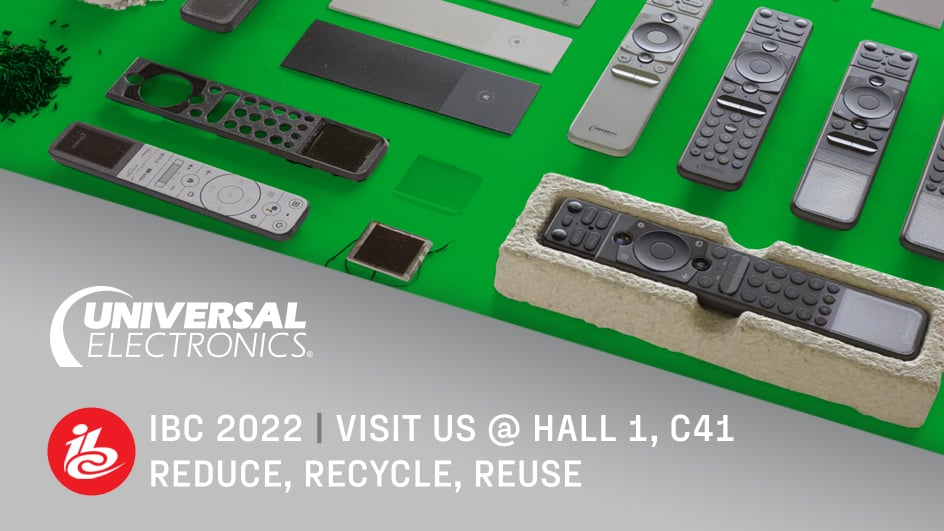 WHO: Universal Electronics Inc. (NASDAQ: UEIC), the worldwide leader in universal control technology for entertainment and smart home devices is showcasing a number of exciting new products and technologies that can potentially help reduce the number of disposable batteries in landfills each year.
WHAT: The company will display:
WHERE: IBC2022, Hall1, Stand C41, RAI Amsterdam, The Netherlands
WHEN: September 9-12, 2022 Press are invited to attend a press tour on September 9 10:30 am – 1:30 am in Hall 1 at Stand C41, and RSVP here or contact eva.delgado@uei.com to schedule a tour or interview outside of our Press Tour hour.
WHY: Now more than ever UEI is working to design, create, manufacture, recycle and refurbish products and technologies that save on thousands of battery waste in an effort to significantly decrease the C02 footprint, "Going Green is No Longer a Luxury," according to Menno Koopmans, SVP of Sales and Marketing, "UEI's showcase of products demonstrates our commitment to a more sustainable future."
About Universal Electronics
Universal Electronics Inc. (NASDAQ:UEIC), Universal Electronics Inc. (NASDAQ: UEIC), the global leader in wireless universal control solutions for home entertainment and smart home devices; designs, develops, manufactures, ships and supports hardware and software control and sensor technology solutions. UEI partners with many Fortune 500 customers, including Comcast, Vivint Smart Home, Samsung, LG, Sony, and Daikin to serve video, telecommunications, security service providers, television, smart home, and HVAC system manufacturers. For over 35 years, UEI has been pioneering breakthrough innovations such as voice control and QuickSet cloud, the world's leading platform for automated set-up and control of devices in the home. For more information visit www.uei.com
All trademarks appearing herein are the property of their respective owners.
Contact at Universal Electronics:
Eva Delgado, Sr. Corporate and Marketing Communications Manager eva.delgado@uei.com, +714-987-8209