One of the most common questions that our hospitality customers ask is, "How can I save money on energy costs?" As utility costs are on the rise and energy usage contributes to growing operating costs, hotels are constantly looking for ways to reduce energy consumption without compromising guest comfort.


While hotels look to increase energy efficiency, travelers are trying to be mindful of ways they can reduce their environmental footprint when staying at hotels from reusing linens to turning off the air conditioner and lights when they leave the room.


We've found that many hoteliers are installing occupancy-based controls to reduce HVAC energy costs without requiring guest action or impacting guest comfort. For example, installing a smart thermostat integrated with occupancy sensors can save a hotel up to 30 percent of their HVAC-related energy costs*.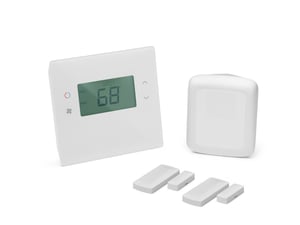 We offer a clever solution to meet the needs of both hoteliers and environmentally conscious travelers with our new TBH300 Energy Management System (EMS). Our standalone TBH300 EMS Kit is a combination of hardware and software that reduces energy consumption using the latest sensing technology. The kit includes our TBH300 thermostat, occupancy sensors and door/window sensors.

What sets our solution apart is that while some energy management systems rely solely on occupancy sensors in the thermostat which does not always get an accurate occupancy state, our occupancy sensors can be placed strategically in the room to achieve the best coverage.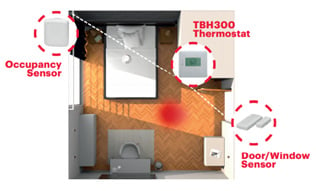 When a room is occupied with the HVAC system turned on and either a window or door is opened, the TBH300 thermostat screen will display a warning message and turn the system off after a specified amount of time. Our advanced sensing technology helps identify the room state and adjusts the HVAC system to optimize energy usage automatically.

If the occupancy sensor does not detect motion within a set amount of time, then the thermostat will switch to the unoccupied state and either turn off or switch to the temperature setpoints for the away state, saving hotels the cost of heating and cooling an empty guest room.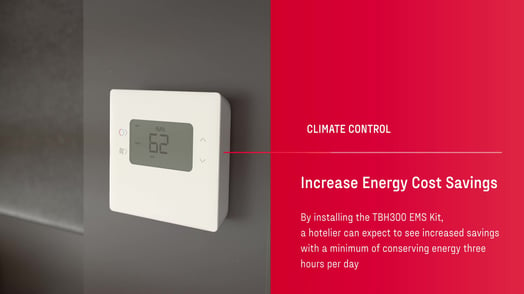 Our app makes it super easy to install our energy management system. The installer app allows the hotel to set up multiple room profiles to represent different room configurations. Once the room profiles are set up in the app, the installer can preprogram the thermostat setpoints in advance, saving the time of programming each thermostat individually.


Installing the TBH300 Energy Management System helps hoteliers easily manage their energy usage, improving their energy efficiency and enhancing guest comfort. With its enhanced occupancy sensing, it eliminates the need for guest or hotel staff to adjust the temperature when the room is unoccupied.
Download the TBH300 Energy Management System Kit product sheet to learn how you can save up to 30 percent in energy costs*.
* Estimates only. Actual savings may vary due to variables such as room size, occupancy time, guest behavior, AC efficiency, etc.