For many years, at UEI we've been working to reduce our single-use plastic usage for our customers in various ways, including products that are designed and manufactured to be far more energy-efficient – our Eterna family of products and using recycled plastics.
One other area UEI is working to reduce single-use plastic packaging. We make over 100 million remote controls a year, and traditionally those have been packaged inside a plastic bag made of polyester film. For the batteries, there are two options – either they're placed inside the remote, with a pull tab to keep the remote from working until the user pulls it out to start using it, or they're packed together in shrink-wrap and contained in a separate compartment of the plastic bag.
It varies depending on the size of the remote, but some 80 remotes are put inside a carton box, and about 64 of those boxes are placed on a pallet for transport. The carton boxes used to be sealed with plastic adhesive tape, and the boxes on the pallet were held together with tight nylon tape, poly wrap, or both. All the plastics involved in distribution are discarded after use. This is why they are called Single-Use Plastics (SUP). Our challenge: make all these redundant.
Getting rid of the bag

We have started with poly bags. We have explored various materials and ended up with four that are usable: paper; teabag material; a paper-like material made from bamboo fiber; and PLA a bio-based biodegradable copolymer. The customer can choose what material is preferred, but it also depends on the design of the remote. We make sure through extensive testing that the remote will not scratch during transport. Depending on the material the remote is made from, whether it is matt or glossy, and whether it is painted or not, one material may be more suited over the other.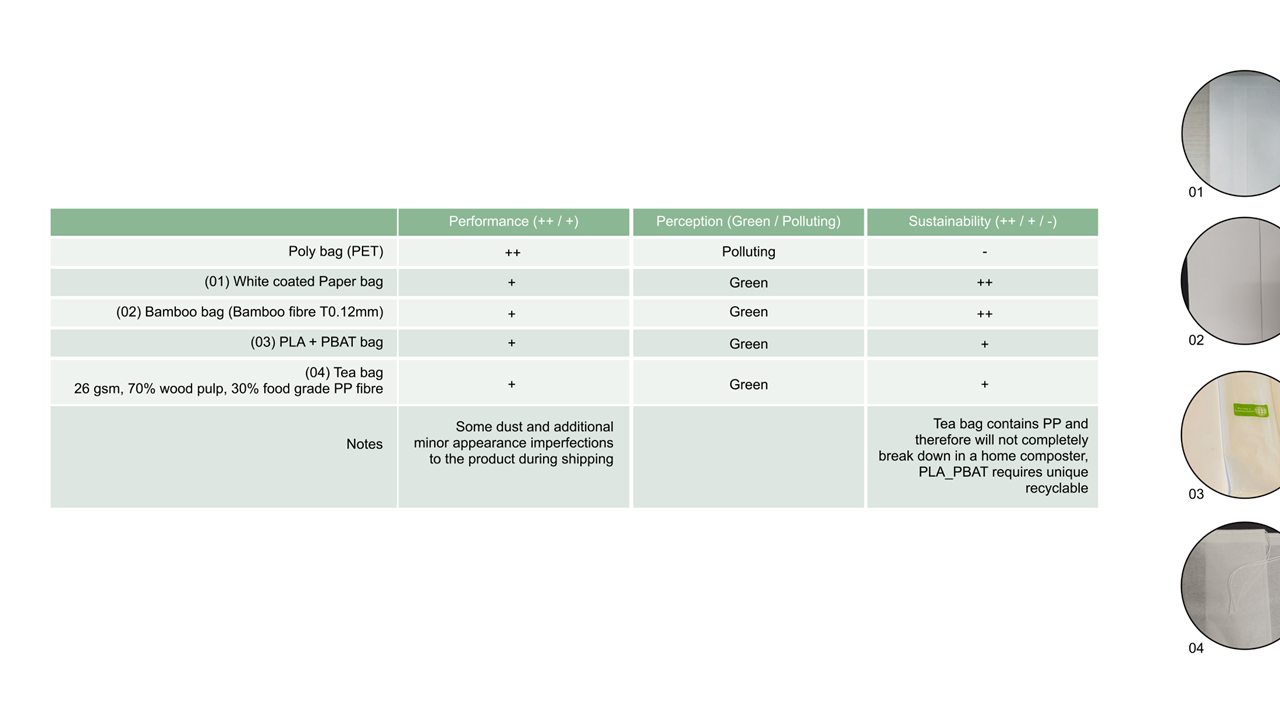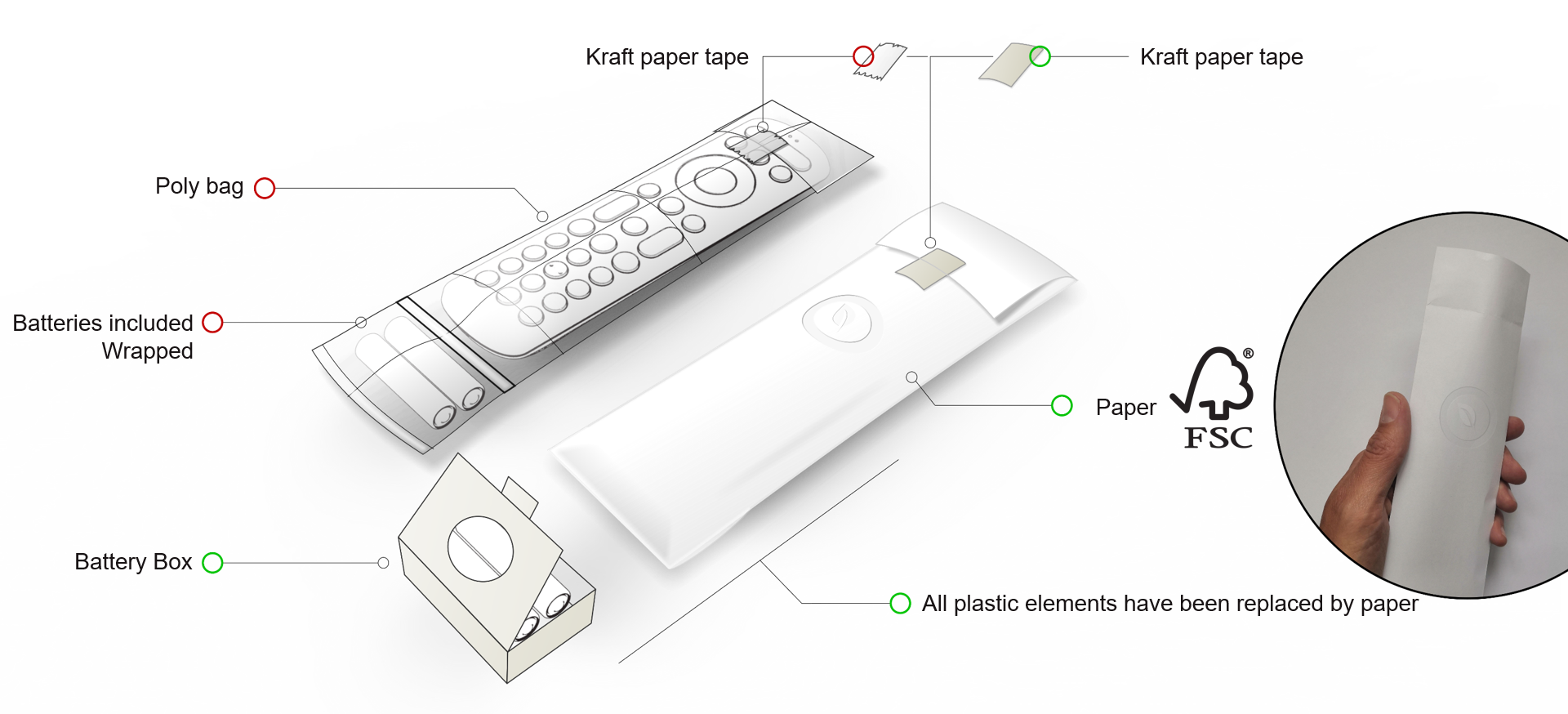 An alternative pull tab.
Next, we have studied the pull tab, thus far made from PET (polyethylene terephthalate). Replacing it with paper may seem straightforward, but the pull tab needs to meet certain requirements: It should not break when pulled, so it should have sufficient tensile strength.
A pull tab should also retain its strength when stored in places with higher humidity, something that can happen during transport. Much development and testing has gone into checking various non-single-use plastic options and we started using them in some of our products.
Lastly, the pull tab should always provide electrical isolation to prevent the remote from working and draining the batteries.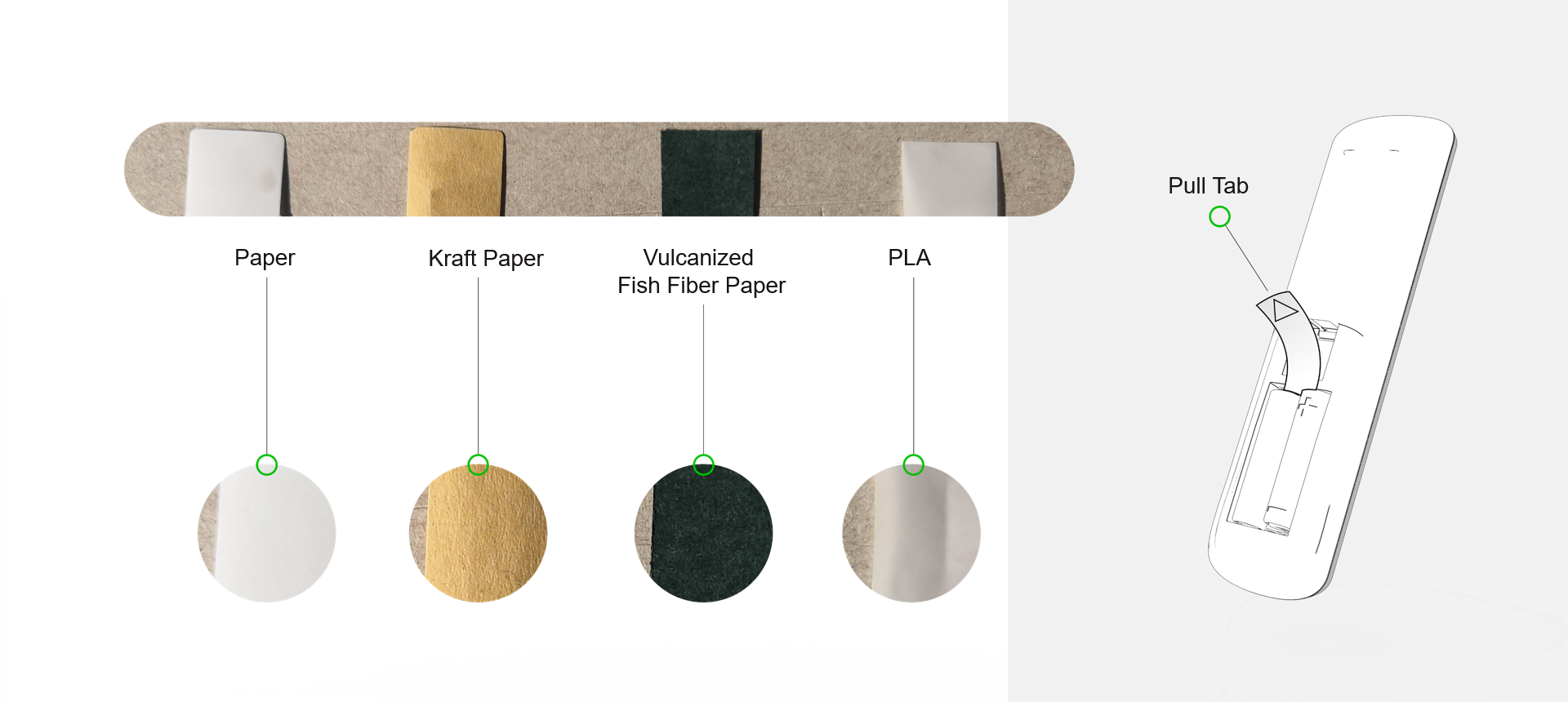 The alternative solution to a pull tab is to keep the batteries outside of the remote. Our SUP-free solution for this is a carton battery box that can neatly hold two AAA batteries.
Boxing them up

The boxes used for packing several dozens of remotes together did not contain plastic, but we used to seal them close with plastic adhesive tape. Nowadays, however, adhesive paper tape exists that holds well enough but is much more recyclable.
We did make one other change. Previously, we would store the remotes vertically in the box (each inside a poly bag). Now we have adopted paper bags we have switched to storing the remotes horizontally since this offers the best protection against scratches.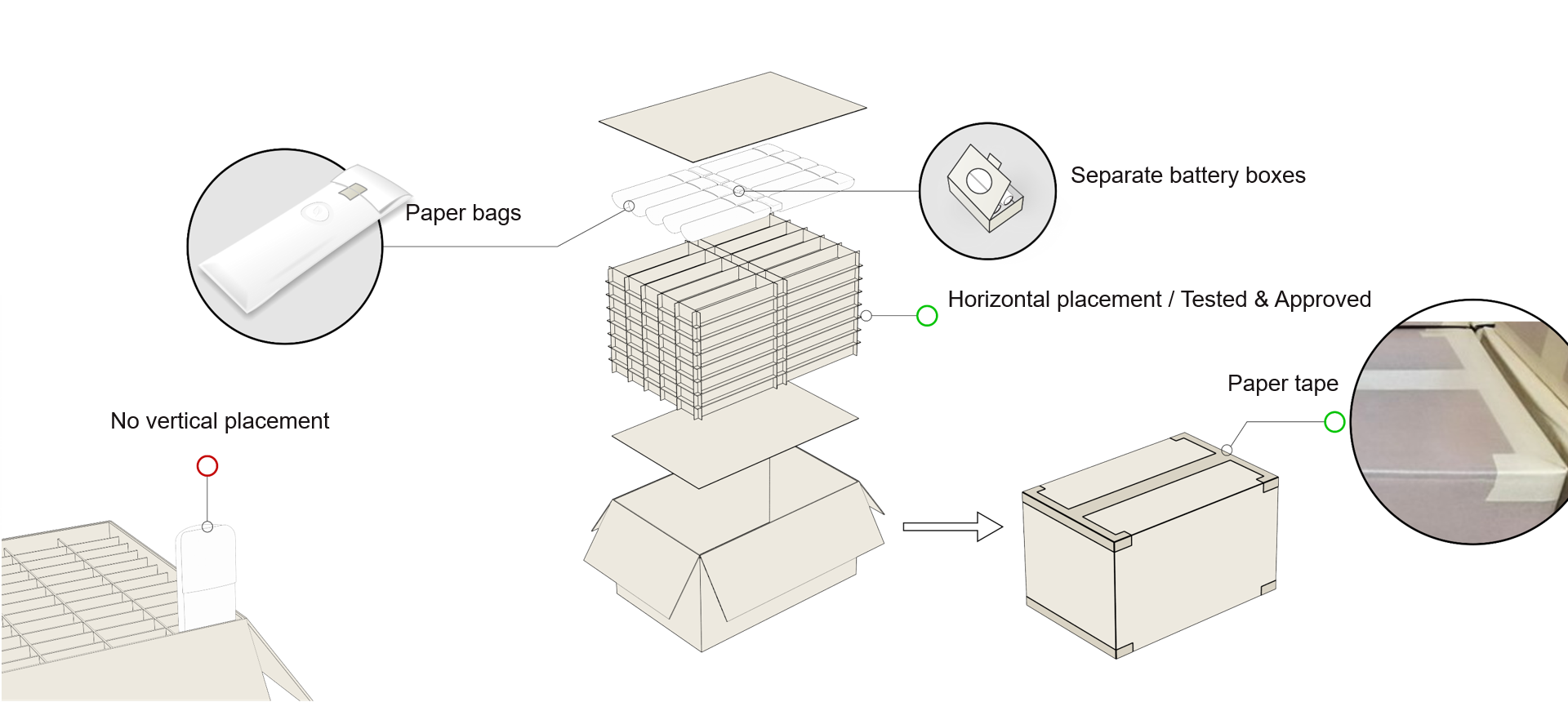 Stacking the pallets

Our remotes are often transported thousands at a time, so we stack the boxes onto pallets. Instead of holding the boxes together using nylon pallet tape around each layer of boxes and putting poly wrap all around the pallet we now put a carton lid on top of the stack of boxes and keep them together with paper tape.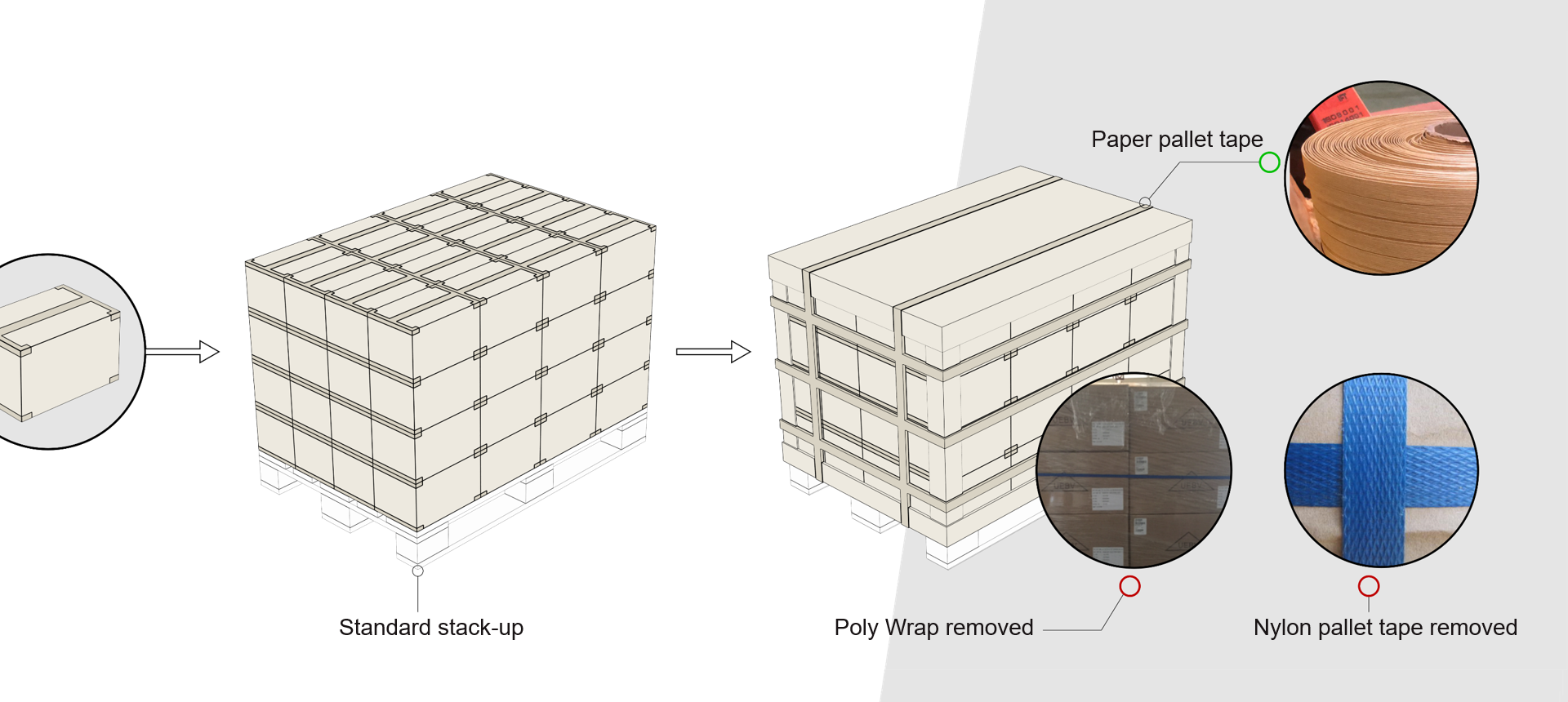 One of our customers that has adopted SUP-free packaging is Sky, as part of their Zero Carbon 2030 program.
For every million of remotes, we package this way, we save close to 40,000 square meters (about half the area of Chicago's Millennium Park) of PET, that would otherwise end up in the waste disposal chain, or worse – in the environment, and eventually possibly in the sea.
Throughout their lifecycle, plastics have a significant carbon footprint and emit 34% of global greenhouse gas emissions.
Reducing single-use plastics is helping protect the oceans because every plastic bag that is not made cannot end up polluting the ocean.
Safe Harbor Statement 
This blog contains forward-looking statements that are made pursuant to the Safe-Harbor provisions of the Private Securities Litigation Reform Act of 1995. Words and expressions reflecting something other than historical fact are intended to identify forward-looking statements. These forward-looking statements involve a number of risks and uncertainties, including the timely development, delivery and market acceptance of products and technologies identified in this release; the purchasing by UEI customers of UEI remotes and other products identified in this release in the quantities anticipated by management; the adoption of the sustainable solutions and technologies identified in this release by UEI customers, the continued penetration and growth of UEI remotes, technology and other products and consumer technologies identified in this release; and other factors described in UEI's filings with the Securities and Exchange Commission. The actual results that UEI achieves may differ materially from any forward-looking statement due to such risks and uncertainties. UEI undertakes no obligations to revise or update any forward-looking statements in order to reflect events or circumstances that may arise after the date of this release.