March 18th is Global Recycling Day. Happy Global Recycling Day! At UEI, every day is recycling day. We've been doing research about it, that we continue to this day, and we've implemented recycling in our production processes. Here are some of the things we've learned / found.

PIR plastics
Our remotes are mostly made from plastics; the material we typically use for the encasing of our remotes is Acrylonitrile Butadiene Styrene or ABS for short. When it comes to plastics in manufacturing, there are two types of recycling: Post-industrial recycled (PIR) plastics and post-consumer recycled (PCR) plastics. PIR plastic is made from the excess material left over at the end of an injection molding process. ABS is a thermoplastic polymer which means these remnants can be collected, ground to pieces and used for other products. We see to it that any such 'waste' plastic we produce is handled in a responsible way and put to good use instead of being simply discarded.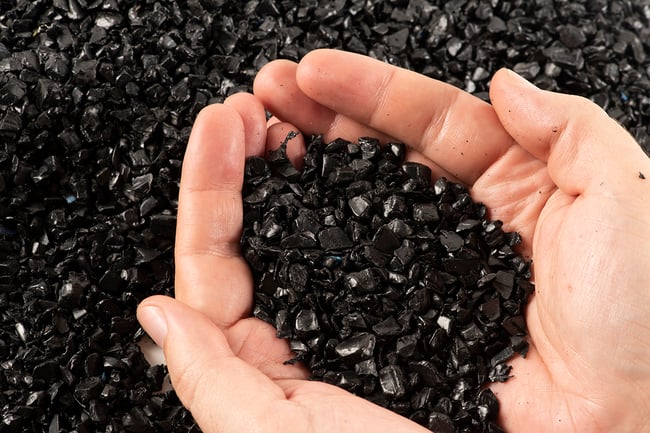 Collected plastic can be recycled into granulate for new plastic production
PCR plastics
Using PCR ABS is more complicated but something the industry needs to do because we need to consider products' complete lifecycle – not just the manufacture. The material to be recycled is from assembled products that have been used by consumers. When these used products have been collected and disassembled, the ABS material can be ground into granulate that can be used in the same way as the raw material for 'virgin' plastics. The suppliers we work with now offer such PCR plastics, with varying ratios of recycled plastics: One offers 85%, another 95% and the third one claims 100%. The remaining 5-15% consists of so-called compounding agents that you would also find in the raw material for virgin plastic. They help ensure the plastics have the right tensile strength. Without them, the plastic would be brittle.
When making recycled plastics, concerns will arise about the technical characteristics of the finished material as well as aesthetic aspects. The vendors we work with supply UL-listed PCR ABS made with global recycling standards, which means the materials are safe and will not burn your house down, which could potentially happen materials from with non-reputable suppliers.
We see to it that our PCR plastics are equivalent to virgin plastic and have the same mechanical and cosmetic performance. The research for this is completed and already applied in mass production.
For Vodafone, a customer of ours, we produce their latest remote using PCR ABS. Several other customers are considering following suit.


Like New
Our Like New program, where our operator customers collect remote controls from the field that have been used by end users and supply them back to our factory, we normally bill as a refurbishment program but it's actually a combination of multiple approaches. After disassembly of the remote, we do the following:
The printed circuit boards (PCBs) we really reuse 'as is'. We test them, and provided they function normally, they are built into new remotes.
The silicone rubber key mats cannot be recycled easily in a sustainable way, so we clean & screen them. If they actually look Like New after that, they can be reused in new remotes.
The plastic from encasings is collected and recycled.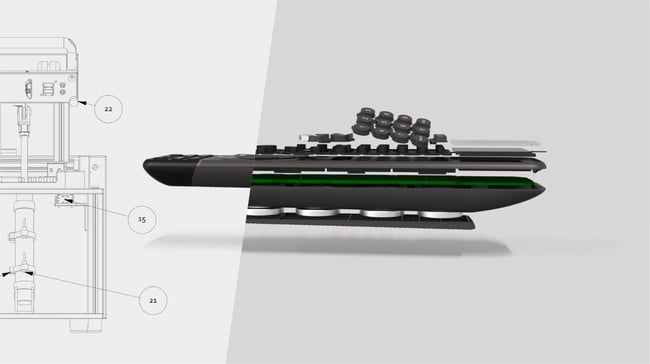 We design our remotes with easy disassembly in mind, to facilitate reuse, recycling and refurbishment.
We have specific patents for this.
Other options
What if we used other types of materials than what we've traditionally used? One of the options we've explored is High-Impact Polystyrene or HIPS – a material that's available in recycled form. It's slightly cheaper than ABS but it didn't meet our standards. For instance, it did not perform well enough in drop tests.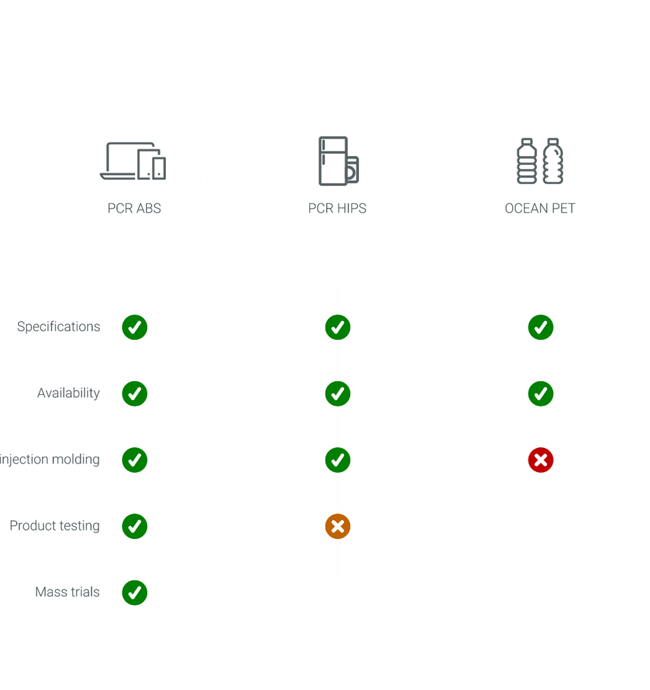 Ocean PET, the material made from plastics collected from the sea (Polyethylene Terephthalate, what most soft drink bottles are made from), is a relatively new option. It's more expensive than ABS, but that need not be an issue. It may be perfectly acceptable if a more sustainable product costs a little extra money. The issue however is that it's less sustainable. That's because the material is not suited for injection molding. So in order to make something out of it you need to add extra process steps and use more energy. Making products out of ocean PET looks cool and makes for a great story but it doesn't make sense for the environment.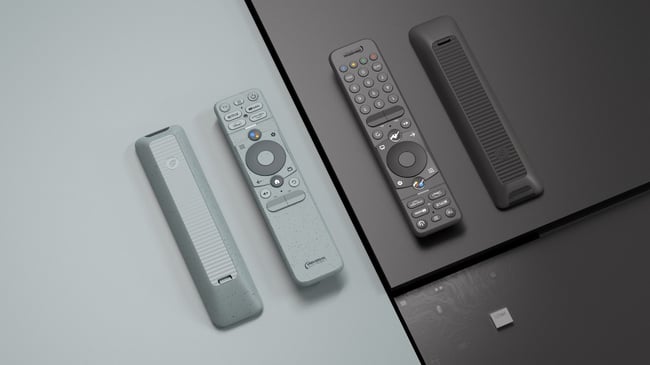 The greyish remote on the left with the speckles is a prototype we made for an Ocean PET-based product.
The black one on the right is made with 95% PCR ABS.
Plastics recycling is just one of many sustainability initiatives we're undertaking. We've also developed new packaging that's from single-use plastics; 'Xtreme Low-Power' chipsets and remote controls with such efficient energy use that users don't need to replace the batteries during the lifetime; remotes with energy harvesting from light and RF waves that keep themselves charged; remote controls that can be disassembled more easily so they lend themselves better to re-use, recycling and refurbishment; and yet other ways to reduce our carbon footprint and that of our customers, that we'll address in future episodes of this blog.
Until we find even better options, we'll continue to use PCR ABS. If you want to know how we can make recycled remotes for you, or recycle your remotes, come talk to us.
Only when it comes to ideas, we'd rather create new ones than recycle old ones.
Safe Harbor Statement
This blog entry contains forward-looking statements that are made pursuant to the Safe-Harbor provisions of the Private Securities Litigation Reform Act of 1995. Words and expressions reflecting something other than historical fact are intended to identify forward-looking statements. These forward-looking statements involve a number of risks and uncertainties, including the timely development, delivery, technical performance, and market acceptance of products and technologies identified in this release; the purchasing by UEI customers of the UEI ETERNA advanced TV remote products identified in this release in the quantities anticipated by management; the adoption of the energy harvesting and low-power technologies identified in this release by UEI customers, the continued penetration and growth of UEI low-power, energy harvesting, recycled material manufacturing, and other products and consumer technologies identified in this release; and other factors described in UEI's filings with the Securities and Exchange Commission. The actual results that UEI achieves may differ materially from any forward-looking statement due to such risks and uncertainties. UEI undertakes no obligations to revise or update any forward-looking statements in order to reflect events or circumstances that may arise after the date of this release.