There's an unmistakable, well-documented shift in consumer behavior from linear TV viewing to on-demand watching. It's been going on since years, it's continuing to this day and will likely go on for several more years.
Along with this shift in behavior comes a shift in spending. Traditional pay TV services are losing subscribers in the US as especially younger consumers are moving to streaming services. In other markets the phenomenon of cord cutting is much less prevalent or even non-existent, and pay TV and streaming services rather complement each other. Subscriptions to SVoD services meanwhile keep rising year after year. While few consumers ever subscribed to multiple pay-TV packages simultaneously it's increasingly common to have multiple SVoD packages – a phenomenon called 'service stacking'. It's happening in North America as well as Europe.
By 2022, more than 50% of U.S. households subscribe to 4 or more SVoD services. Some 20% have 5-8 of them, and about an equal number even have 9 or more. These are just the paid services – not counting free ones such as YouTube.
"The most elegant solution may be to have an Adaptive Key with a little display in it. We've developed a prototype of that and showed it at IBC where it garnered lots of attention." - Yoeri Geutskens Channel Marketing Manager for UEI's Video Service Provider business

One can watch streaming services on mobile devices, tablets, PCs or TVs but the TV remains the most popular piece of hardware for watching video. The apps for streaming to a big screen can run on a Smart TV, a streaming media player or an operator-provided set-top box (STB). Consumer Premises Equipment (CPE), as the operators call it.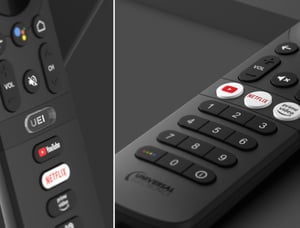 Streaming video apps come and go – HBO Go, HBO Now and even HBO Max are on the way out, CNN+ was gone after a month, Google Play Video & TV has been phased out and the list goes on and on – but the general trend is they're proliferating and growing in number. How should remote controls cater to what some have begun to call the 'Army of Apps'? It's a question we at Universal Electronics try to find answers to with and for our customers. At the latest IBC show we had an exhibit precisely about this.
Dedicated shortcut keys for video streaming apps are a popular solution, and by now having four of them is not uncommon. Will four app keys do it? Our latest platform remote can accommodate six but some Japanese TV makers already feature eight app keys on their remotes and as a thought exercise for this discussion we've made a design with 10 keys. It's a simple and straightforward solution, but is it the right one? How far can this go on?
Should we have programmable function keys where the physical key stays the same but their functions can be set by the user? One of our customers already uses that solution, and some other companies have also chosen this solution.
Should the keys be physically customizable, such that you can change their labels? We've got ideas how to implement that practically and elegantly.
The most elegant solution may be to have an Adaptive Key with a little display in it. We've developed a prototype of that and showed it at IBC where it garnered lots of attention.
Or should we perhaps include a full touch screen? It would come at a premium but it's a flexible solution that consumers are highly familiar with in other contexts, and it opens up opportunities for far more things beyond offering current apps and promoting new ones.
Some will argue that all of the above ideas are more complicated than the simple one of voice control. That's certainly the most efficient solution in terms of real estate on the remote control. All it takes is a single voice command key. But is it the best solution for all, or does it ignore users who remain reluctant to talk to their remotes? It's not a new solution – at UEI we've shipped over 125 million voice remotes already – but it gives access to an unlimited number of functions without cluttering the key remote control.
To explore possible solutions, come talk to us. We're full of ideas and we've got the capabilities to implement any or all of them. We love engaging in a conversation with you about these directions.