No One can Control the Weather, Hotels can now Remotely Control Unoccupied Rooms more Precisely.
Energy costs are up, and extreme climate events create record high and low temperatures every season. All these factors pack a new set of challenges and opportunities for the hotel industry focused on keeping guests comfortable while meeting sustainability goals.
HVAC systems comprise 35% of a hotel's energy consumption, making it the leading contributor to energy costs, according to the US Energy Information Association. In other words, hotels spend more money on heating and cooling a property than they do on lighting. Additionally, ENERGY STAR, a joint program of the Environmental Protection Agency (EPA) and the Department of Energy (DOE), found that the average guest room incurs nearly $2,200 in energy costs annually across America's 47,000 hotels.
However, despite an increase in both leisure and corporate travel since the pandemic halted both, many hotel rooms stay unoccupied up to 70% of the time – either because a guest hasn't checked in yet or they're enjoying an outing. As a result, hoteliers often spend valuable resources heating or cooling an empty room to maintain comfortable temperatures – and this substantially drives up energy consumption and operating costs.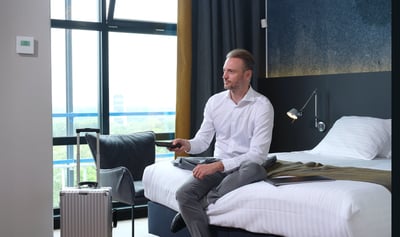 Fortunately, new smart energy solutions are emerging to help bring down costs and enable hotels to be more sustainable. One such solution, The UEI TW780 Thermostat, leverages notifications from motion and door sensors to help determine when a room is unoccupied and automatically adjusts the room temperature accordingly.
While still giving hotel guests full control over the temperature while in their room, the thermostat adjusts the temperature setpoint when the room is unoccupied. As an example, by adjusting the room temperature by six to seven degrees (higher in the summer months and lower in the winter) during the checked-out and unoccupied times between guest check-in, creates up to 15% savings for hoteliers, depending on the area of the country and energy costs. This ultimately increases energy efficiency, reduces operating costs, and frees employees to focus on more value-added tasks.
While some energy management systems rely solely on motion sensors in the thermostat, these sensors may not always get an accurate read of occupancy when a guest is asleep or if the room has blind spots. What's different about our TW780 energy management system is that it looks for extra information from the entry door sensor in addition to the motion sensor to determine occupancy status. A more intelligent solution, it ensures guests' comfort throughout their stay.
The Sustainable Hospitality Alliance's Global Hotel ecarbonization Report found that the hotel industry needs to reduce its carbon emissions by 66% per room by 2030, and by 90% per room by 2050. As the entire industry, from large corporate hotels to small boutique chains, identifies areas of their properties where they can reduce their energy usage without compromising guest comfort, smart thermostats present a unique opportunity.
What's more, such smart energy solutions can be easily implemented across sectors such as senior living, student housing, and other multiple dwelling unit properties where residents don't pay directly for their energy consumption. While smart thermostats like ours can complement new builds, we also make it easy to retrofit existing systems with the technology.
As a result, smart thermostats aren't just smart. They're good business.
For more information visit us at Thermostats and controllers (uei.com) and Follow Us on Social media at https://www.linkedin.com/company/ecolink-intelligent-technology-in


Download the TW780 White paper to learn even more and how you could save!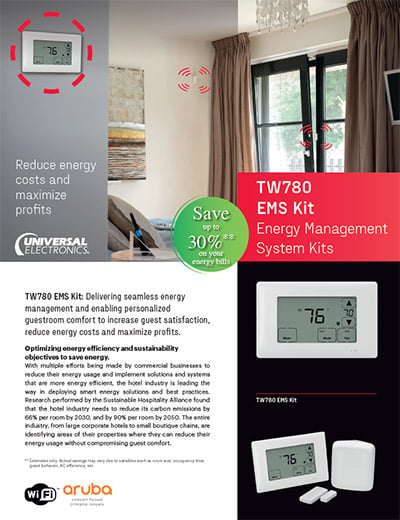 Safe Harbor Statement 
This press release contains forward-looking statements that are made pursuant to the Safe-Harbor provisions of the Private Securities Litigation Reform Act of 1995. Words and expressions reflecting something other than historical fact are intended to identify forward-looking statements. These forward-looking statements involve a number of risks and uncertainties, including the timely development, delivery and market acceptance of products and technologies identified in this release; the purchasing by UEI customers of UEI thermostats and the UEI TW780 product identified in this release in the quantities anticipated by management; the adoption of the cloud based and advanced control technologies identified in this release by UEI customers, the continued penetration and growth of UEI smart thermostat technology and other products and consumer technologies identified in this release; and other factors described in UEI's filings with the Securities and Exchange Commission. The actual results that UEI achieves may differ materially from any forward-looking statement due to such risks and uncertainties. UEI undertakes no obligations to revise or update any forward-looking statements in order to reflect events or circumstances that may arise after the date of this release. 
###