Here's how we're eliminating pet-triggered false alarms
False alarms are a pain for everyone – first responders, homeowners, security companies, and the makers of the motion-detection systems that are crying wolf. For the customer, the experience costs more than it should (in false-alarm fees) and satisfies less. Security companies are also getting hit with false-alarm levies.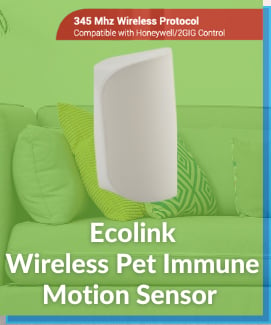 The problem is pervasive because security systems are prevalent in homes, apartment buildings, and locations where seniors are aging alone. Their use is growing, and The false-alarm rate is high: 62% of security system owners report that their system triggered an alarm that was false over the past 12 months, according to a Parks & Essence white paper.


'Pet immunity' significantly enhanced
At Universal Electronics, we've just tackled one big aspect of this problem with a new motion sensor from our Ecolink business that can distinguish between pets that weigh up to 85 pounds, and people. As security pros know all too well, pets, the most beloved members of the household, are commonly misidentified as home invaders. Imagine enjoying a nice dinner out and getting a call that your alarm is going off. You leave the restaurant in a panic – only to find out that the family dog inadvertently triggered the alarm. Good news, however: The device we just launched, the Ecolink Pet Immune PIR Motion Detector, knows a dog is a dog.
So, thanks to our breakthrough pet-immunity algorithm, your Golden Retriever won't trip the alarm unless it's walking on its hind legs with an eerily human gait. Though funny to envision, pet-related false alarms are a real and growing issue given that there are more pets in homes since the pandemic onset, and they're often left behind as workers go back to the office.


Other improvements
The 85-pound pet-immunity ceiling is a huge jump from our previous ceiling of 45 pounds. Bonus: The Ecolink Pet Immune PIR Motion Detector's new hidden Fresnel lens reduces false alarms triggered by culprits other than pets. One traditional trigger is white light, such as sunshine on a smooth surface or headlights from a passing car. The lens also reduces false alarms stemming from swings in room temperature related to HVAC systems. In addition, the lens can now monitor a 40-by-40-foot room (up from 35 by 40 feet) in a dense IR capture pattern.
The new motion detector looks good, too. It's sleeker than earlier models with a smooth, rounded front finish. But it's still designed with the pro installer in mind with easy mounting on walls or corners.
The Ecolink Pet Immune PIR Motion Detector operates wirelessly at 345 MHz, seamlessly pairing with Honeywell/Resideo and 2GIG security panels. It's just one example of how we're making internet-of-things (IoT) sensors smarter and better.


Ecolink's DNA

Industry insiders expect this kind of innovation from Ecolink, which has more than 25 issued and pending patents in the home security and automation space. Though not a household name, Ecolink for 23 years has been the wireless technology inside the most respected home security and automation brands, as well as the coolest new ones. The company joined the Universal Electronics group of companies as a wholly owned subsidiary in 2015. When you buy an Ecolink-branded device, it's the same technology from the same factory as the household-name devices, just at a lower price (Here's where pro security in-stallers can buy the Ecolink Pet Immune PIR Motion Detector and other Ecolink gear).
False alarms are a pain, they're expensive, and they degrade the customer experience. What's worse is that people stop trusting the detection system, and that defeats the purpose of having security in the first place. If we can stop pets from tripping alarms, and for the most part we've just done that, it's major progress.
That means security systems, and those who install them, can do their job. And pets will have to look for other mischief.