QuickSet® Cloud and services
The digital backbone of smart home functionality
Our cloud and software solutions enable connectivity and control for a wide range of devices and systems.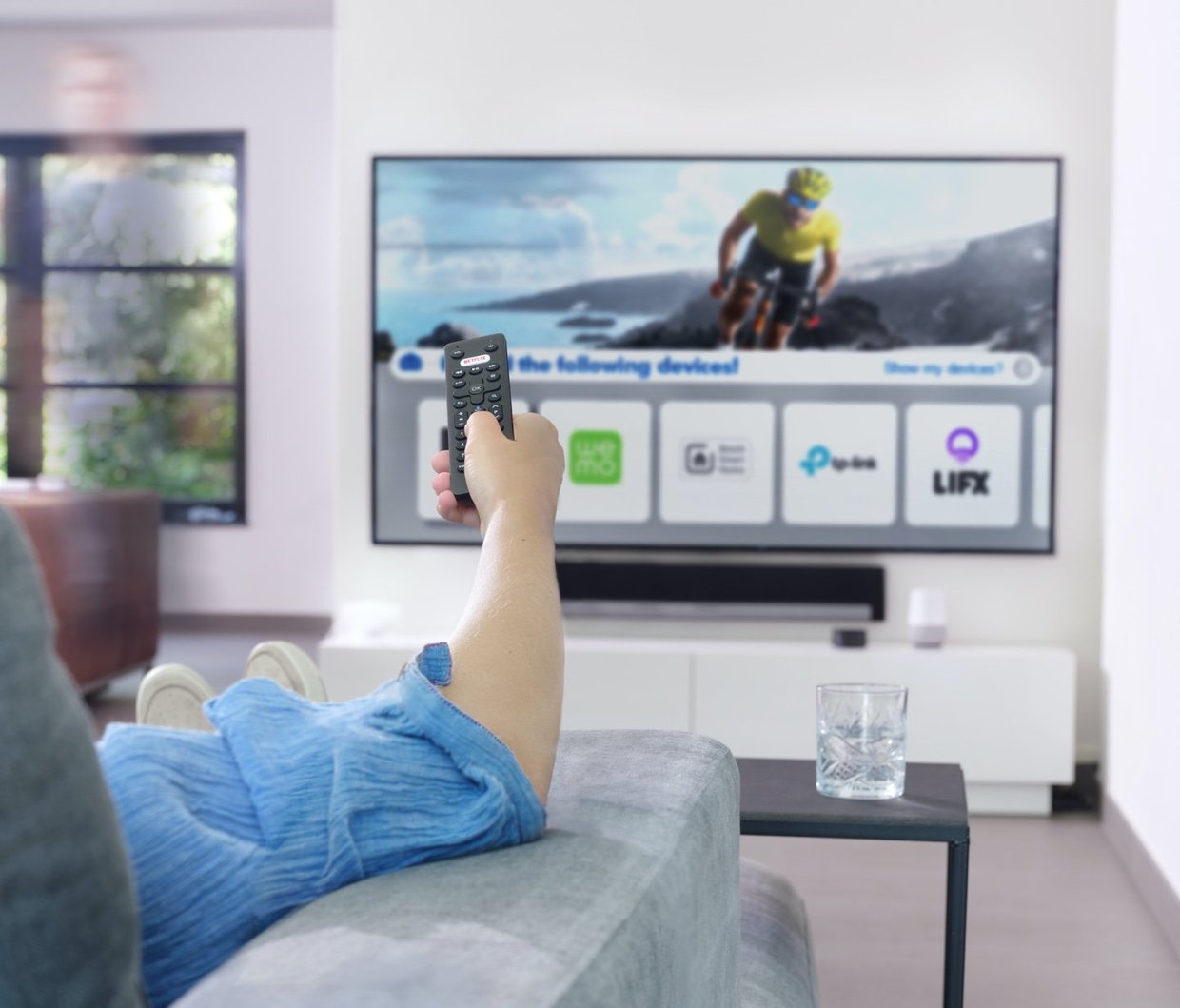 QuickSet® Cloud and services
Comprehensive graph of entertainment and smart home devices
Our database includes 12,000 brands and nearly 1 million devices with over 100 billion cloud transactions.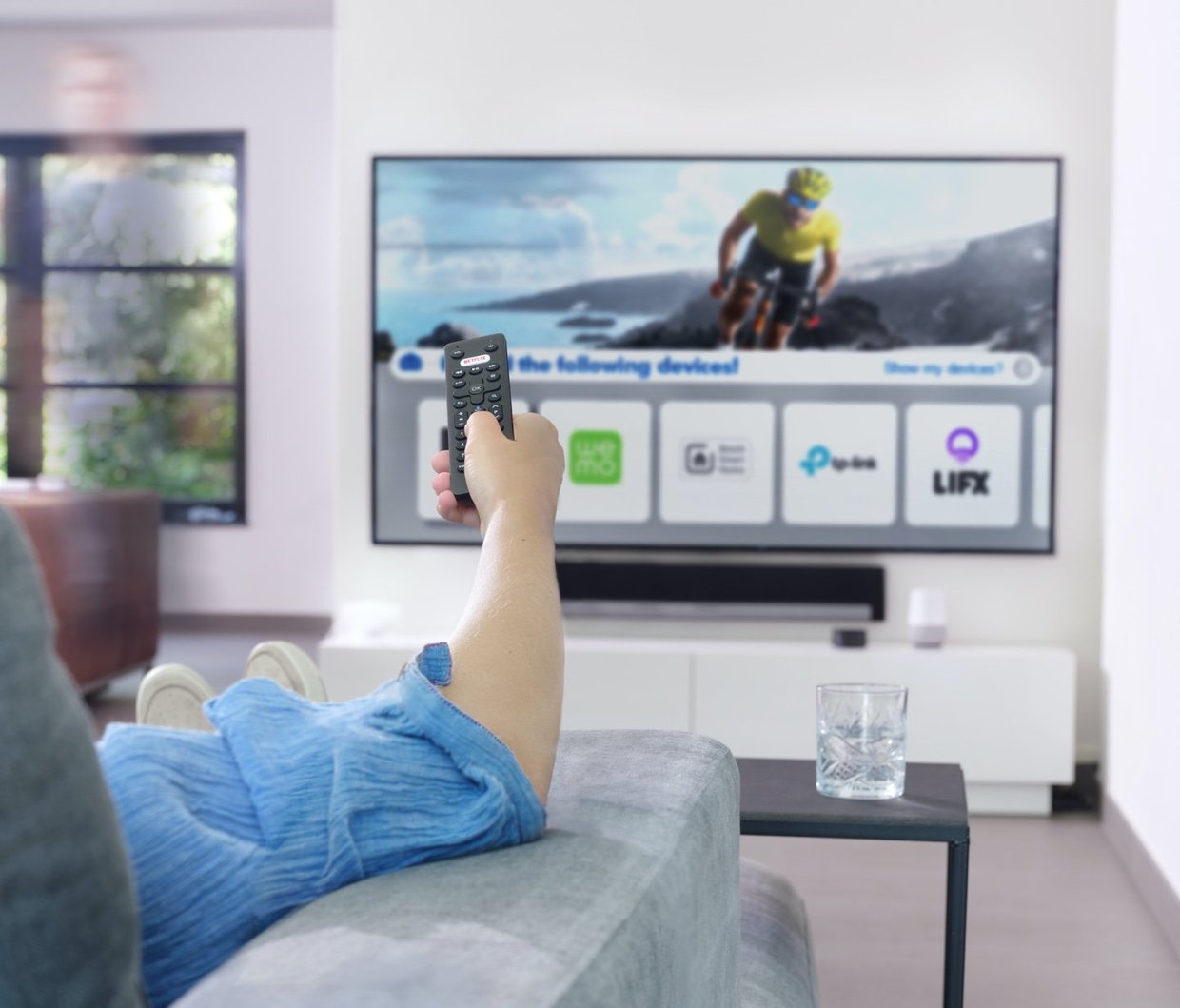 QuickSet® Cloud and services
Powering innovative technology
Our solutions enable capabilities such as seamless interoperability, automation, remote monitoring and self-help support.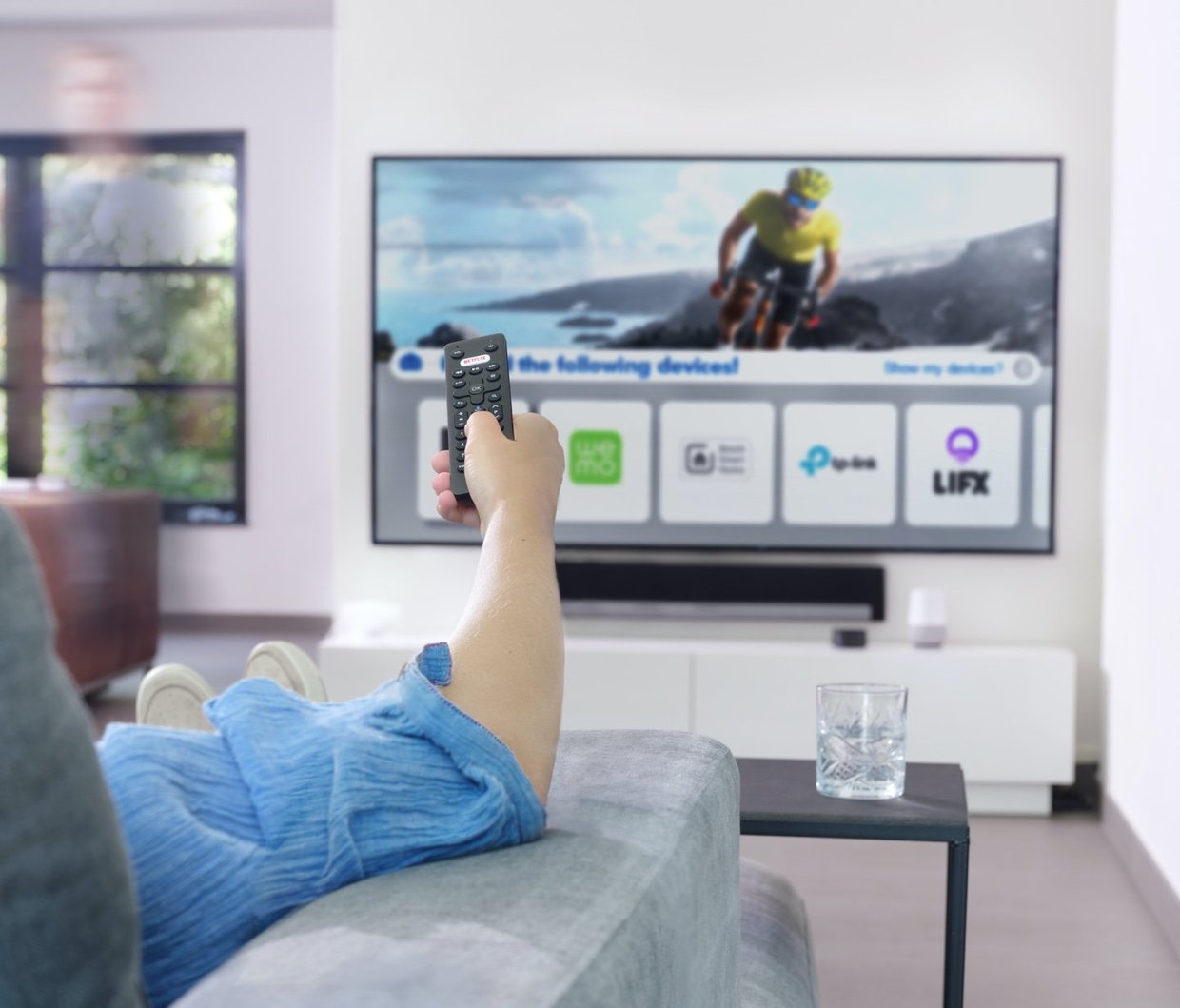 QuickSet® is Universal Electronics' software product family and the de facto solution for simplifying universal discovery, control, and of devices within the home.
QuickSet® Cloud
QuickSet® Cloud takes advantage of scalability and infinite processing power of the cloud platform. QuickSet® discovery and control capabilities are available as simple web-based APIs enabling flexible integration, including server-to-server for cloud video delivery platforms, resource-constrained IoT devices, and cross-platform mobile applications. With a near real-time update cycle and access to the full device knowledge graph, this solution provides the best coverage, up-to-date features and highest accuracy.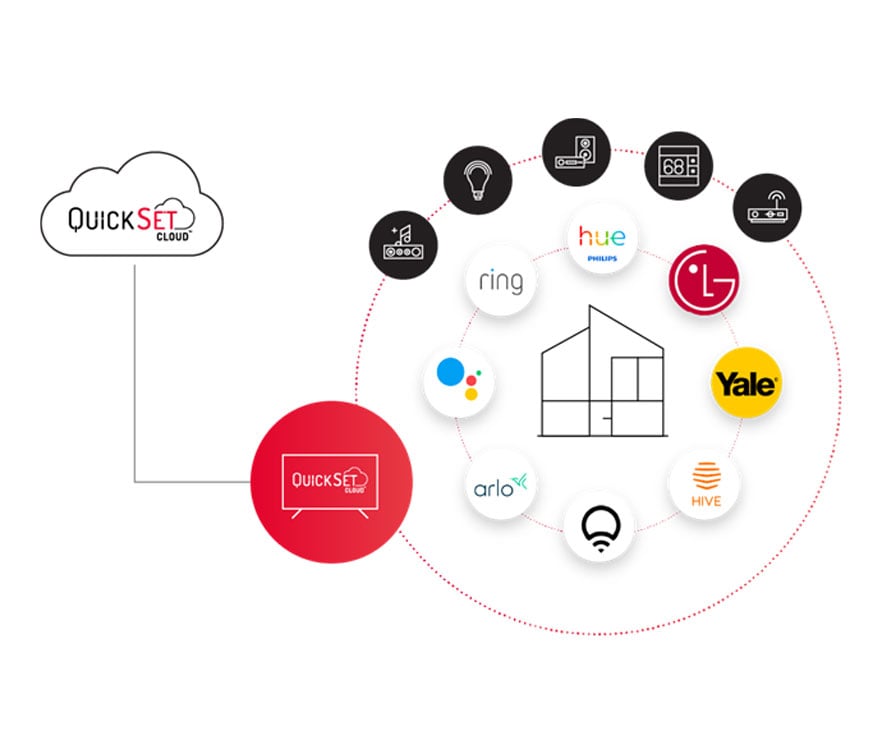 QuickSet®
Native QuickSet® SDKs jump-start the application development for mainstream platforms by offering QuickSet® features as easy-to-integrate embedded APIs that perform complex logic in the background. Supports a range of platforms including Linux, Android, as well as optimized services for RDK and Android TV platforms. Built using QuickSet® engines and leveraging QuickSet® Cloud, it enables manufacturers and providers to build the best smart home and TV watching experience for consumers.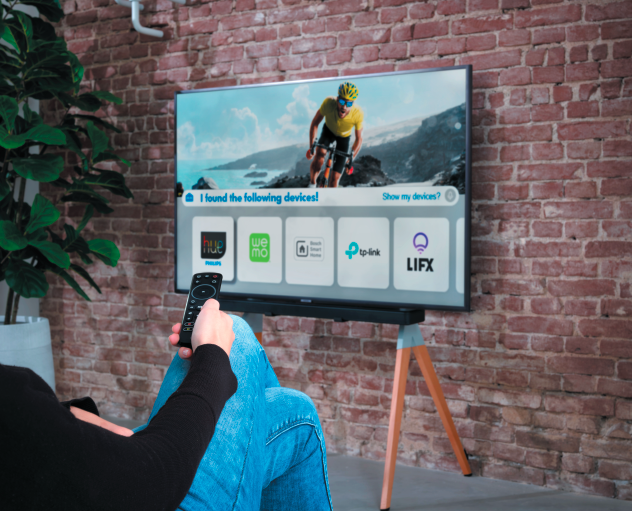 Device knowledge to improve device recognition.
Our global device knowledge graph provides structured and detailed information about devices, their capabilities and services they offer as well as the relationships among them. Every device within the home has a set of device properties such as their brand name, model number, series number, manufacturer, current capabilities and offerings, their physical and software characteristics, compatible devices, region information, and much more. This extensive range of information for nearly every audio-video device in the world is contained in QuickSet's device knowledge graph. QuickSet® leverages this knowledge graph, to serve up a full range of capabilities for a device. Beyond control, this knowledge graph also adds the much-needed context to all user commands and actions, making dynamic capability discovery of nearby devices possible.
Device knowledge to improve device recognition
QuickSet® relies on algorithms that utilize the knowledge graph of devices with varying control capabilities, communication interfaces and protocols, each identifiable with unique fingerprints. Device recognition is done by fingerprinting available mediums such as HDMI video networks, IP networks such as WiFi, and Zigbee rf4ce networks. Discovery is further expanded to additional device attributes that include metadata traits such as installed apps, compatible mobile apps, audio and video capabilities, device compatibilities, screen characteristics (size, image resolution..), region and age, manufacturing year and more. Leveraging UEI's expertise in consumer electronics in the last 35+ years , QuickSet's Device Knowledge Graph contains not only current devices in the market, but current installed base in the home. Covering nearly any device, new or old.

QuickSet® leverages the knowledge graph to go beyond a single protocol approach and identifies the optimal control method or methods for achieving the desired control across multiple interfaces. This hybrid control of devices, drastically increases compatibility with the current installed base. The common control methods include infrared (including discrete infrared), protocols and features available on HDMI video networks, IP networks such as WiFi, and Zigbee rf4ce networks When it comes to infrared control, our device knowledge graph contains the largest set of infrared control codes.
QuickSet® can virtually power any entertainment and smart home devices, whether these are televisions, streaming media players, set-top-boxes, game consoles, audio video receivers, sound bars and even smart phones and tablets. Below you can find a better explanation of the core applications and the benefits of QuickSet® in each of those scenarios.
QuickSet® for Smart Televisions
Television is the single screen that is shared by all entertainment devices and applications in the home. With that in consideration, televisions today are in desperate need of harmony and unification between the different content sources and services that are available in the home.

TVs are in control of our daily content consumption journey. The first step in watching TV is to turn on the display which naturally makes it the place to offer a unified interface across devices and services. Smart TVs must provide a continuous experience of watching TV that today faces challenges from the other content sources available in the ecosystem. In 2016, Samsung revolutionized the customer control experience with the introduction of their 9500 series Smart TVs, marking an industry-leading shift to a novel approach to simplify the consumers' experience across content sources and devices. They turned the display into an intelligent hub for different content and services.

Leveraging QuickSet® and an external HDMI hub concept this television platform and its remote discover and automatically control entertainment devices that are connected to it. With the automatic setup, consumers are able to seamlessly switch between content sources such as Set-top box, OTT box, Blu Ray Player etc.

Samsung has received wide praise for this innovative approach where they are putting consumers' needs for multi-brand, multi-control connectivity ahead of single brand compatibility. The TV presents personalized content and history in a single unified interface. As shown in the graphic, the TV presents all services associated with different content sources that are attached to the TV. Users can access a channel, content or service with a single touch.

Through an expanded set of discovery and control medium capabilities included in the latest release, QuickSet® has further refined the vision of a unified and personalized interface across all devices. The solution is now capable of digging further into devices, discovering content such as current playing media, installed applications, and services contained within a range of devices. This helps address the issue of app confusion in this day and age where the same app may be offered through different smart devices. When used in conjunction with traditional media recognition and watermarking techniques, this method can help build a scalable, efficient, and personalized recommendation engine based on usage history across multiple content sources.
QuickSet® for Smart Media Players and Set-Top-Boxes
Incumbent service providers face aggressive competition from TV, OTT and other streaming services that are eagerly battling to show their content to the consumer. For a competitive service provider, the traditional grid-based menus and long scrolling lists of content are now a thing of the past. Switching inputs, changing remote controls, and keeping it all straight was a threat to the continuity of subscription from consumers. The complexities of a home ecosystem include the increasing friction resulting from context switching within various content sources. Comcast was able to address these complexities and provided new and improved personalized services in shorter refresh cycles that are capable of adapting to a more complex home environment. This reduces initial install costs through a combination of self-install kits and shorter professional install times to achieve a pleasant out of the box experience.
QuickSet® for Smart Speaker and Smart Home Hubs
QuickSet® addresses fundamental shortcomings of today's voice assistants by providing the much-needed compatibility and context as it relates to existing installed base of devices within the home and their current status, such that a spoken word can take users to their desired content by putting the entire system in the configuration necessary to achieve that. As an example a 'Watch Netflix' command will turn on the TV, switch the input to the proper content source, launch Netflix application, and set lighting in the room to the movie scene.
The UEI difference
Our solutions help consumers easily control and connect devices in their home. Learn more.